1. Why Choose KASSICO As Your Camping Table Manufacturer
KASSICO Portable Folding Camping table is suitable for picnics, camping, fishing and trip with with family and friends. specially designed with folding bracket, Tear resistance fabric, strong and durable, excellent bearing capacity, Lightweight, simple assembly, quick storage, it will be your best choice.


【HEAVY-DUTY CONSTRUCTION】Our folding table is made of study aluminum or wood frame . Our mountain summit gear table can hold up to 30Kg. The camping table comes with a convenient carry bag!

【ADJUSTABLE HEIGHT】: Portal folding table designed with telescoping aluminum legs for different heights to fit uneven surfaces and meet the demands for your next camping adventure

【EASY TO CARRY】: The slat table top can be rolled up. Legs are foldable with non-skid feet. Included carry bag makes the table extremely compact for easy storage and transportation

【QUICK SETUP】: Assembly can be finished in one minute. The strength and stability will exceed your expectations. Perfect for camping tailgating or backyard use

【EASY TO CLEAN】The surface of portable picnic table is water-proof, stain-resistant, don't worry about spilling the drink on the table by accidentally, just wipe it.

【MULTI FUNCTIONAL】Portable travel table is perfect for picnics, BBQ, camping, hiking, fishing, garden, yard, beach or even around the house as a snack table or outdoor dining table.


2. Types of Camping Tables
When it comes to
camping tables
, there are several options available in the market, each catering to specific needs and preferences. Let's delve into the various types of camping tables to help you determine which one suits you best:
Folding Camping Table:
The
folding camping table
is the most popular and widely used type among campers. It features a collapsible design that allows you to fold the legs inwards and flatten the surface for easy storage and transportation. Typically constructed with sturdy materials like aluminum, these tables can bear considerable weight during camping activities. For added stability, it is advisable to place the folding camping table on a flat surface to prevent tipping.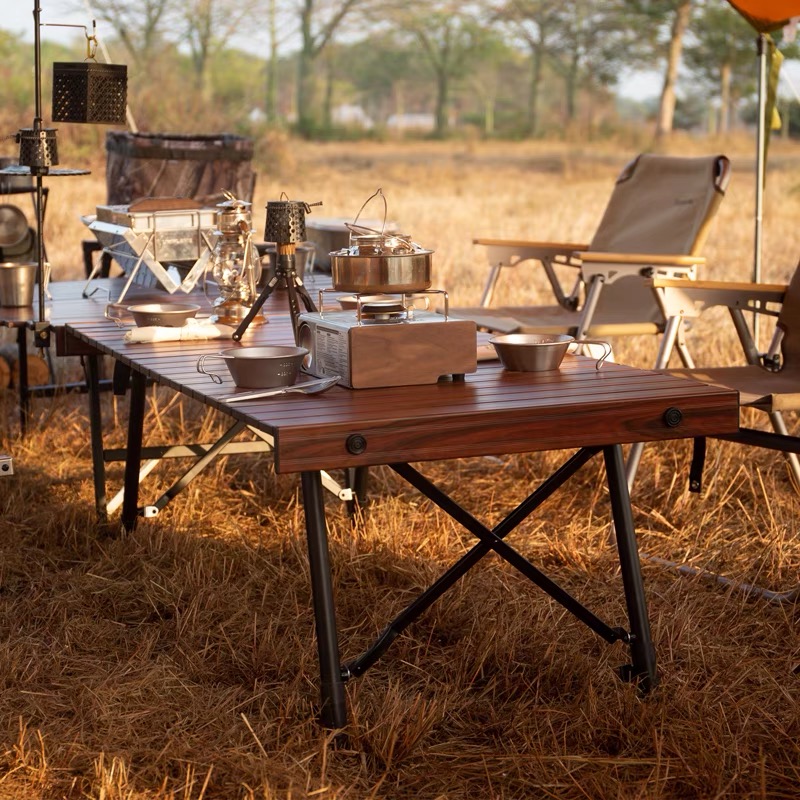 Roll-Up Table:
Roll-up camping tables
are versatile and can be used to hold various items such as drinks, utensils, dishes, and more. They come in different sizes and materials, capable of supporting weights ranging from 40 lbs to 100 lbs, depending on the model. Choose the appropriate roll-up table based on your specific needs and camping conditions.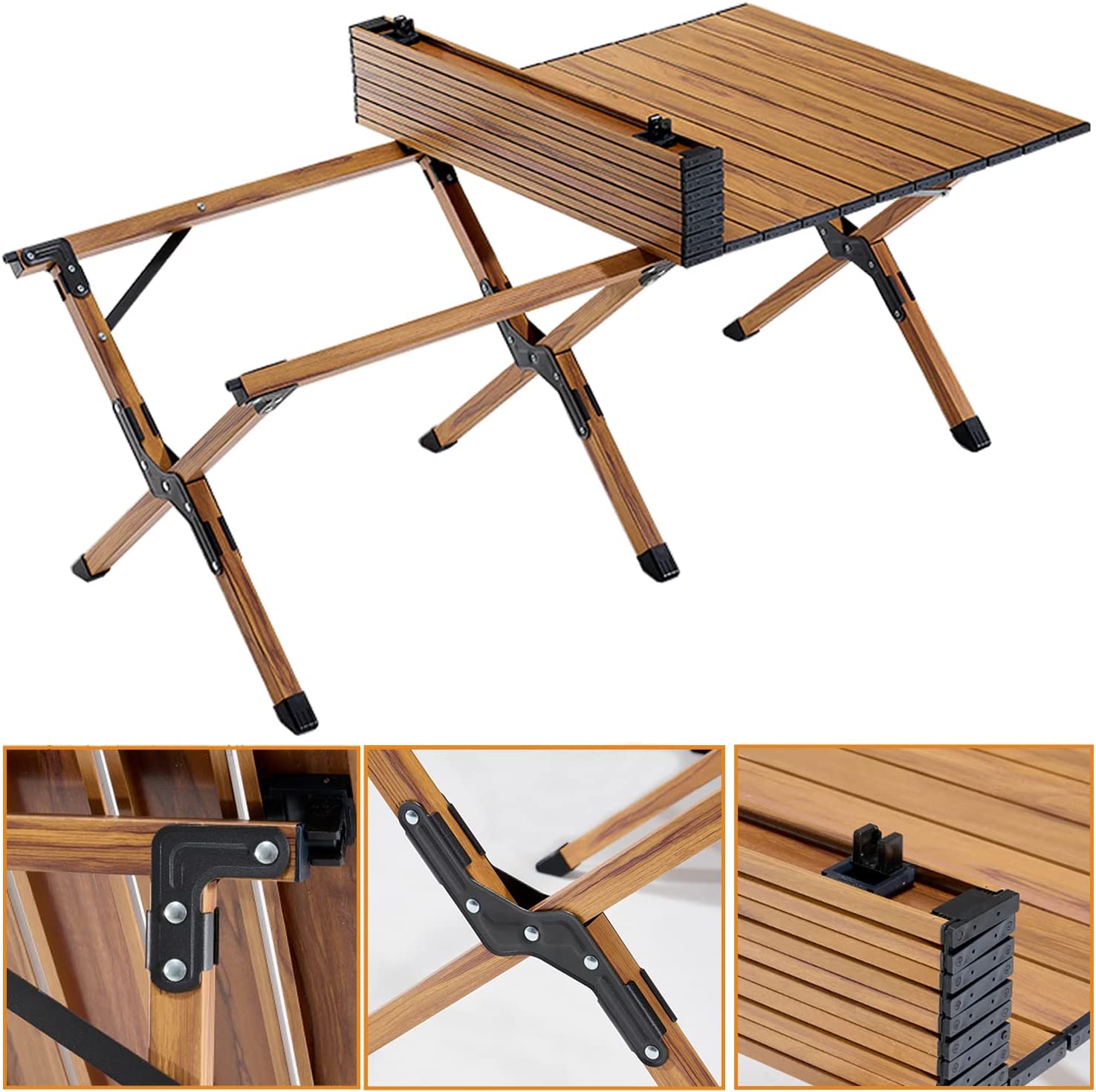 Tall Table:
If you plan to camp with a larger group of family members, friends, or colleagues, a tall camping table might be the ideal choice. These tables offer ample surface area for organizing multiple items and provide sufficient space for socializing during camping downtime. The table size should be determined by the number of campers participating in your expedition.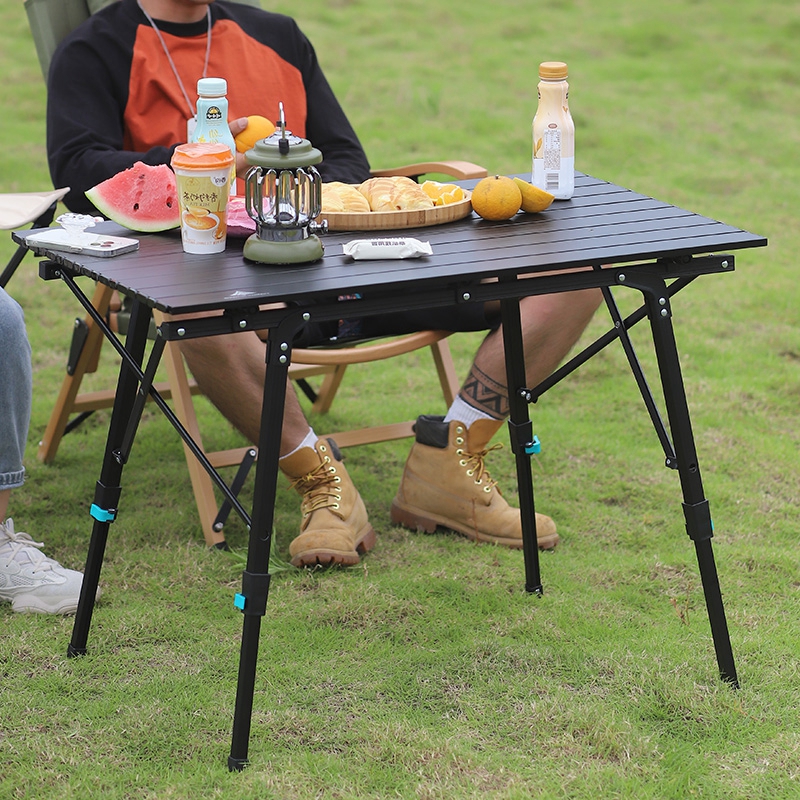 Low Table:
Low camping tables are a common choice among campers for their unique benefits. They allow campers to sit comfortably on the ground while easily accessing the table's surface. As these tables are not elevated too high from the ground, there is no need to carry chairs or sofas. Simply use a sitting mat or carpet to create a cozy setup for enjoying your camping experience.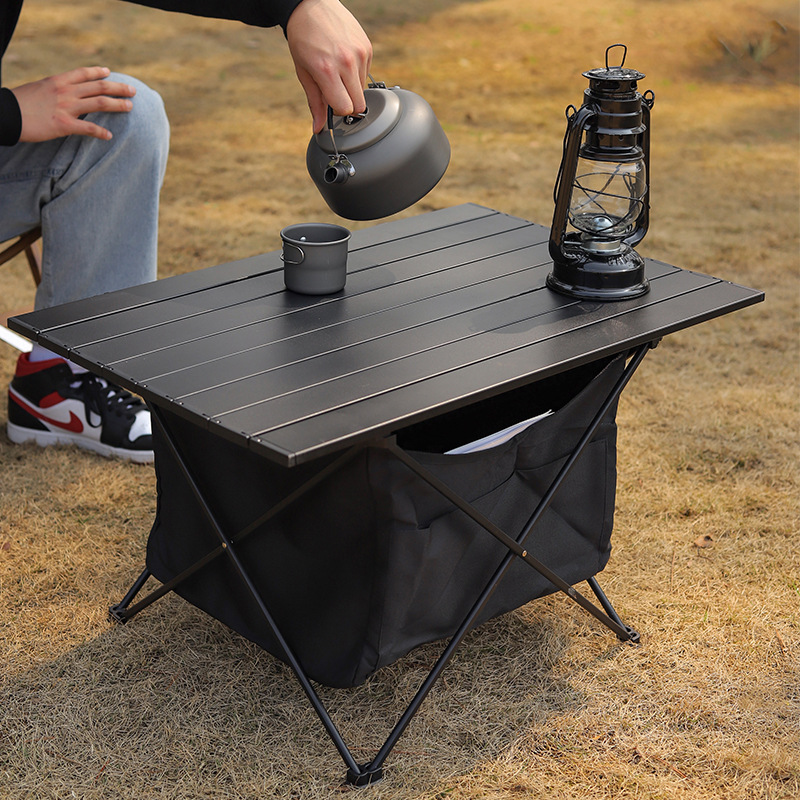 Side Table:
Smaller in size compared to other camping tables,
side tables
are designed to support and hold smaller items. While they may not be ideal for dining purposes, they serve well for holding drinks, lighting, bags, and other compact essentials. Usually foldable, these tables offer high tensile strength and are water-resistant, making them durable for outdoor use.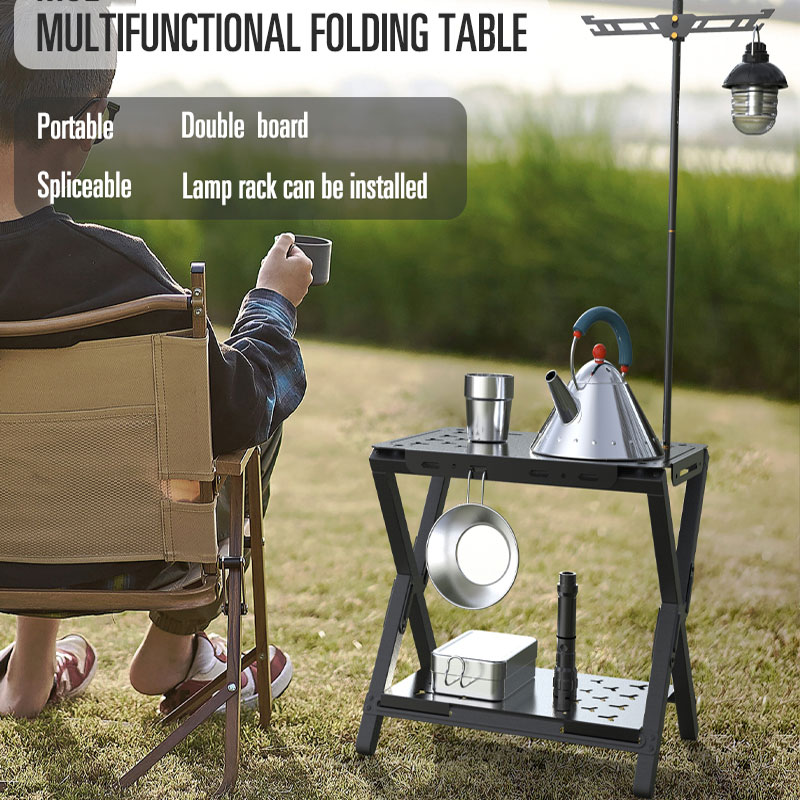 3. Camping Table Materials
When choosing a camping table, the material it's made from plays a crucial role in its performance and suitability for different camping environments. Here are common camping table materials along with their key features to help you make an informed decision based on your specific
Metal (Stainless Steel or Aluminum):
Durability:
Metal camping tables, particularly those made from stainless steel or aluminum, are known for their sturdiness and resistance to corrosion.
Lightweight:
Like plastic tables, metal tables are also lightweight, making them suitable for outdoor use.
Wind Resistance:
Metal tables can better withstand gusts of wind compared to plastic ones.
Weight Consideration:
Stainless steel tables may weigh more than aluminum ones, so size and portability should be taken into account.

Versatility: Aluminum camp tables are highly versatile and well-suited for backpacking due to their lightweight nature.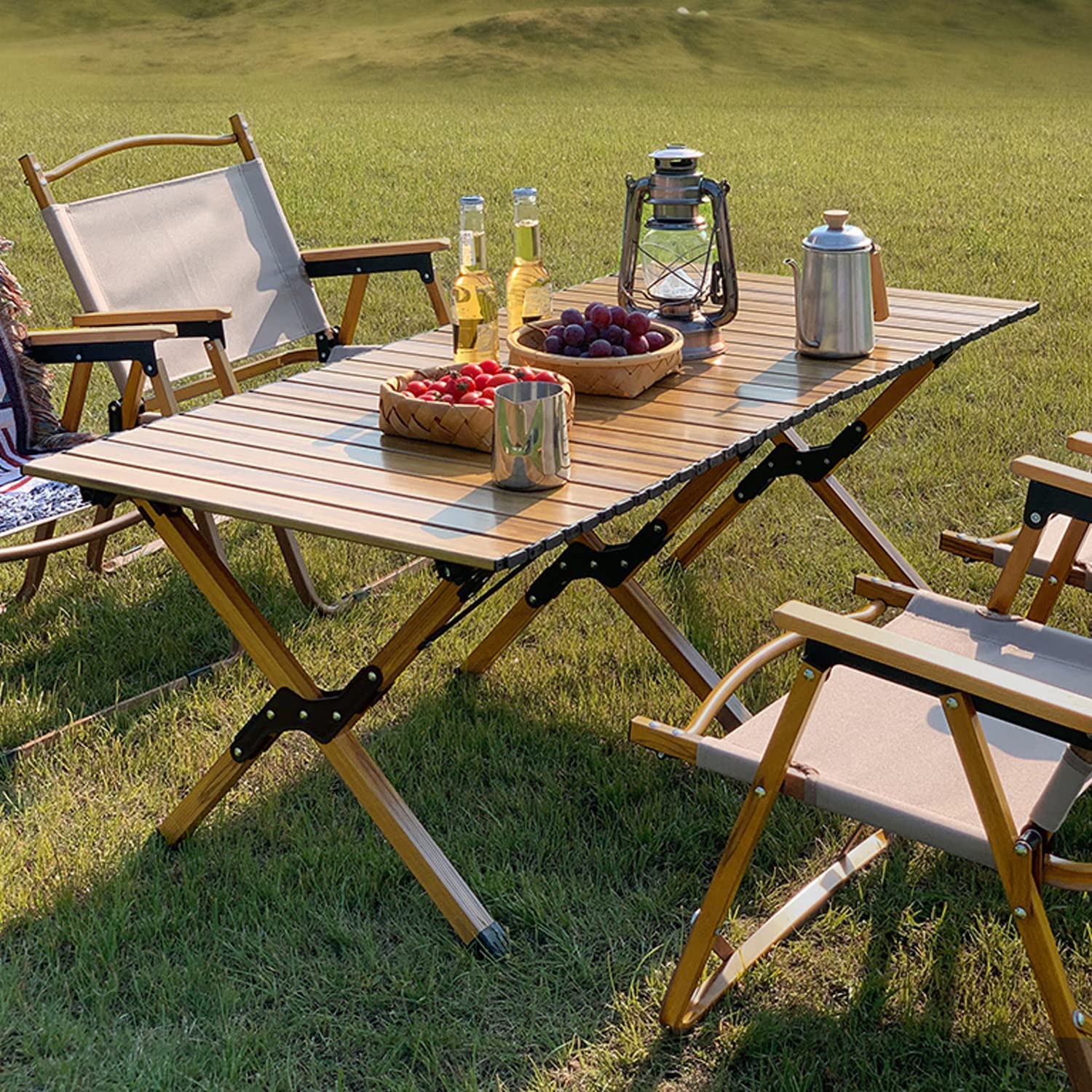 Mesh or Nylon Table:
Portability: Tables designed with mesh or nylon fabrics are incredibly portable, perfect for campers on the move.
Limited Usage: Their smaller size limits their usage, often serving best as side tables.
Best for Side Tables: Mesh or nylon camping tables are excellent options as side tables for holding smaller items.
Durability: They may be less durable compared to other materials, so care should be taken to avoid excessive wear and tear.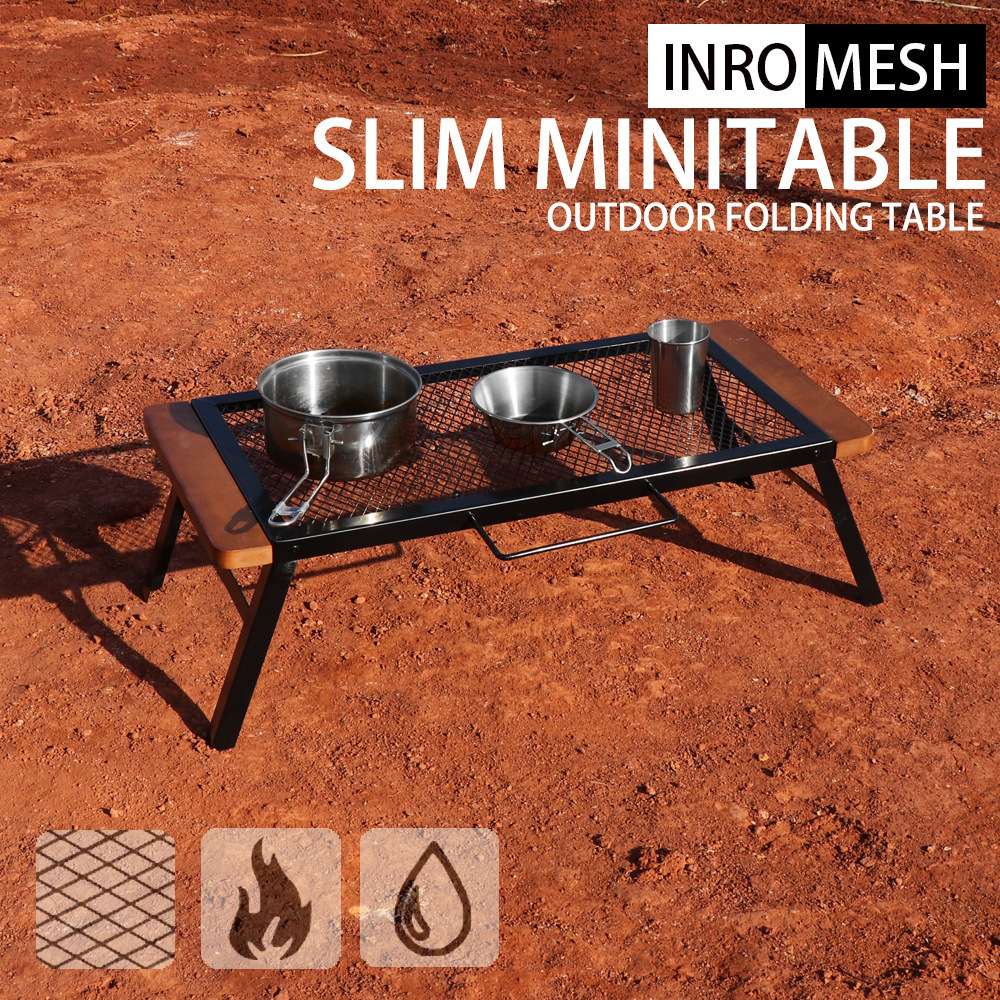 Bamboo & Wood Table:
High-Quality and Stylish: Bamboo & wood material camping tables are considered high-quality and offer a unique and attractive appearance.
Lightweight: They are lightweight, providing ease of transportation during camping trips.
Durability: Bamboo is a durable material, ensuring the table's longevity.
Cost Consideration: Bamboo camping tables may be relatively more expensive than those made from other materials, reflecting their premium quality.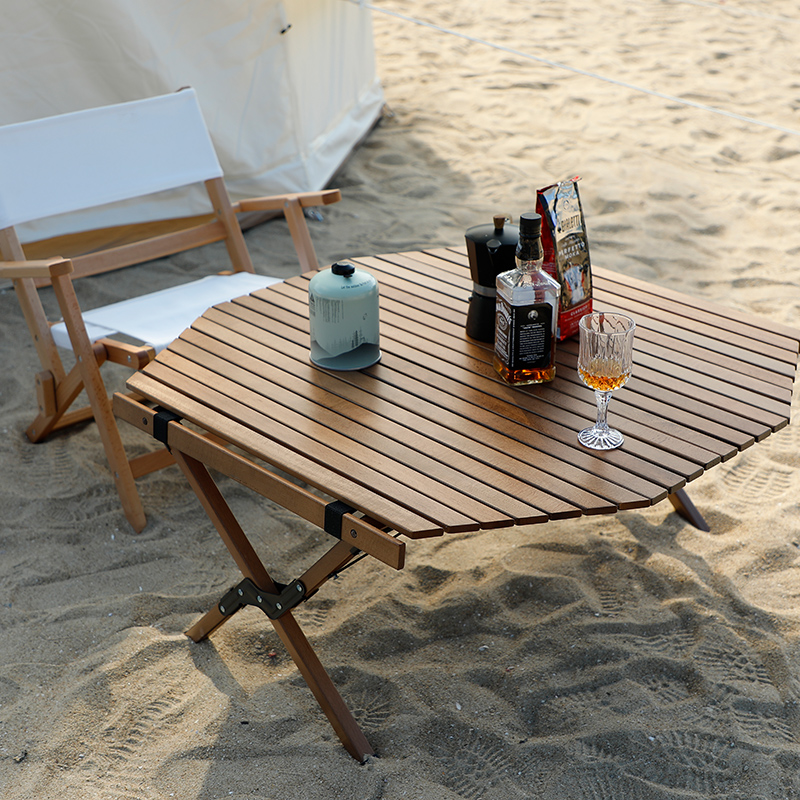 Plastic:
Affordability: Plastic camping tables are often more budget-friendly compared to other materials.
Lightweight: They are easy to carry and transport, making them convenient for camping trips.
Mildew Concerns: In wet climates, plastic tables may be prone to developing mildew.
Tent Friendly: Plastic tables can be placed inside your tent, providing an additional surface for organizing belongings.
4. How to choose a camping table ?
As one of the most important camping equipment, there are many
camping tables.
How to choose? we will organize "five key points of choosing camping tables" and teach you how to choose camping tables.
1. Unfold size
2. Receive
3. Stability
4. Load
5. Extensibility / functionality


1. Unfolding size
The size of camping table can be divided into two parts: desktop size and desktop height.


Desktop size:
The selection of desktop size must consider the number of users and space. If there are a large number of campers, a large or long desktop is usually required to meet the use needs. But it can't be too big. You must also consider the size of your tent space. Especially if you use a closed living room tent instead of an open sky curtain, the whole sense of space may feel very crowded.


Desktop height:
Desktop height greatly affects the user experience. You must choose a desktop height you like and match it with your "camping chair height". The height of about 40 ~ 55 cm belongs to "low table", and about 55 ~ 75 cm belongs to "high table". above 75 cm or 40 less, one may have to stand up and the other may have to sit on the ground. I don't recommend these two heights as the "main camping table".


Fortunately, there are many camping table feet that can adjust the height. You can adjust the height of the table according to your preferences. The height adjustment can be divided into "segment" and "no segment".


"Segmented" means that you can choose to adjust the fixed height of each grid. The advantage of "unstructured" is that it can be adjusted arbitrarily between the maximum and minimum values, but the disadvantage is that it compares the probability of "foot contraction".


2. Storage
Like other camping equipment, storage size must be strictly considered. In addition to considering the storage space at home, the more important question is whether the car can carry it?


The storage of camping tables can also be divided into "plate" and "column". Usually, the storage of "omelet table" is column, and the storage of "folding table" is plate. I think the "columnar" storage is better, but it should also be noted that the length should not be too long. It may not fit into the trunk or get stuck in the wheel arch of the car.


3. Stability
On the camping table, sometimes there may be hot soup, stove... And so on. You absolutely don't want this kind of thing to overturn! So the stability of the table is very important.


Many camping tables on the market pursue "light weight", but it is likely that the stability of the table is sacrificed when pursuing light weight.
It's not that you can't buy this type of table. It's also very marketable, but I suggest that if you're a friend who just started camping, the camping table you're looking for should be "universal".


I think it can be seen from the "skeleton type". Some types of skeletons are not very stable at first sight (for example, the above figure), so I won't consider them. In addition, whether the skeleton is "integrated" or needs to be "assembled and spliced" will also affect the stability to some extent. If you are still worried, you may have to go to the physical store


4. load
The load of the camping table is one of the data we often refer to, but it represents "uniform load" rather than concentrated load, so don't think that if he writes 50kg, you will let a 50kg child sit on it. Even if the skeleton is not broken, the table board may be bent.
Therefore, no matter how high the load is, try not to challenge its "load value" as much as possible, just use it as a reference for use safety.


5. Extensibility / functionality
Recently, there are more and more camping table designs, which can make many different changes, such as "extended accessories", "extended desktop", "kitchen desktop", etc., so that your camping table has more than one way to use.


This is also what I like to see when I choose a camping table recently. After all, it is difficult for a camping table to break down. It usually lives longer than a tent. Can it change according to our different usage habits.