Camping, while often adventurous, necessitates a comfortable setting for campers. This is where investing in
folding camping tables
becomes essential for both individual campers and businesses catering to the camping industry. These tables significantly enhance camping convenience and contribute to an overall positive camping experience. The aluminum foldable table, in particular, stands out as a lightweight, sturdy, and compact solution, offering comfort for various activities such as sitting, cooking, eating, or relaxing during camping trips. A comfortable camping experience translates to increased energy levels for campers to fully enjoy their adventures.
Why Choose an Aluminum Camping Table?

Camping should be a relaxing and stress-free activity. Aluminum camping tables, alongside other outdoor essentials like
sleeping bags
and
tents
, play a crucial role in ensuring a memorable getaway in the wild. The aluminum foldable table, specifically, offers convenience during meals, relaxation, playing board games, gatherings, and conversations. Its durability, safety features, and robust design make it capable of supporting substantial weight, while its lightweight nature ensures ease of use for both men and women. The quick and effortless folding mechanism allows users to set up and pack away the table within minutes.
What to Consider in a Folding Camping Table

Material
Choosing the right material is crucial for a folding camping table. High-quality aluminum is often preferred for its versatility and modularity. It ensures easy folding for setup and packing. The tabletop material also matters, with aluminum being a durable choice for long-lasting performance.
Size
The size and shape of the camping table should align with its intended purpose and the number of users. Some tables come in sets with compatible chairs, and manufacturers may offer customization options to cater to specific size requirements.

Add-ons
Consider additional features such as pole tips for stability on uneven ground, cases for easy travel, and convenient add-ons like cup holders or
storage bags
for essentials. These add-ons enhance the overall functionality and user experience.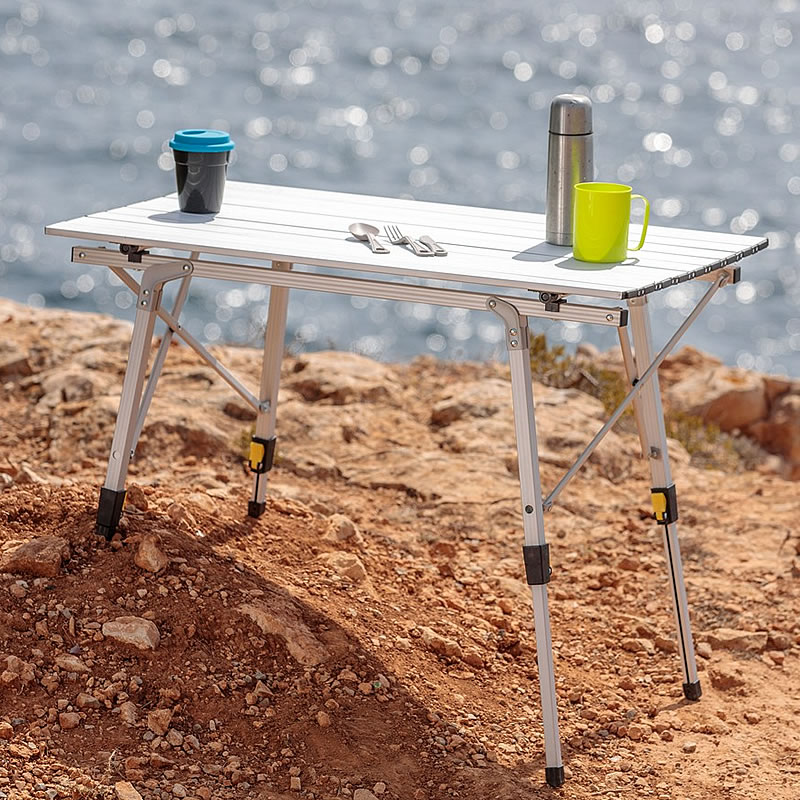 Maintaining an Aluminum Folding Table
Regular cleaning is key to maintaining an aluminum folding table. Stains should be addressed promptly using a soft brush, rubber gloves, safety glasses, and a mild cleaning solution. Grease stains may require a degreaser, while mild soap and water can handle general cleaning. Avoid using rough brushes or towels with sharp ends to prevent damage to the table's surface.
Venturing into the Camping Industry

Now equipped with knowledge about foldable camping tables, consider entering the camping industry market. KASSICO, as a camping gear supplier, provides valuable information and welcomes collaboration as a business partner. If you're interested in our products and wish to sample before making wholesale purchases, contact us for a confident and successful partnership.


In addition to camping tables, as a camping gear retailer, you'll find a wide array of gear and utilities essential for a well-planned and enjoyable camping experience. Even light campers need the right gear to make their outdoor adventures memorable.
KASSICO
, a leading
aluminum box
factory in Ningbo, China, has 21 years of production experience. Since 2015, combining the advantages of
camping kitchen boxes
, KASSICO has expanded its business scope to outdoor camping gear and equipment, including design and supply of
camp furniture,
camping tents
,
camp kitchenware
, camping lights, tools, etc. With multiple sets of outdoor product solutions. KASSICO provides customers around the world with hundreds of innovative and affordable outdoor products. We will be your reliable suppliers, and we will try our best to serve you better and to be your honest partner.
More Details:
https://www.kassico-outdoor.com/