Guidelines for Camping Equipment in Summer
Early summer is always very exciting, with no hot temperatures or continuous rainfall, making it perfect for an overnight camping trip. Lying in the sunlight and shade of trees during the day, staring at the blue sky in a daze At night, by the fire, in the tent, eating barbecue, and counting the stars For outdoor companions camping overnight, the most difficult first step is probably to purchase equipment. How to choose camping equipment in summer?
1. A

canopy

is necessary to block the wind and sun
The biggest function of a canopy is to prevent sun damage. Do not choose a cotton canopy as it is heavy and prone to mold. In summer, choosing a canopy with silver or black glue is best, as the sun protection effect will be better. Try to buy a larger canopy, not too small. In addition, attention should be paid to the details of the ground, as some of the ground in the sky are very thin and easily blown up by the wind.
According to the actual number of people, a size of 12 square meters is suitable for 3-4 people, which is relatively spacious.
Choose colors according to the expected style, light colors are hotter in sunlight than dark colors.
Choose shapes such as butterfly, square, hexagonal, etc. based on your preferred appearance.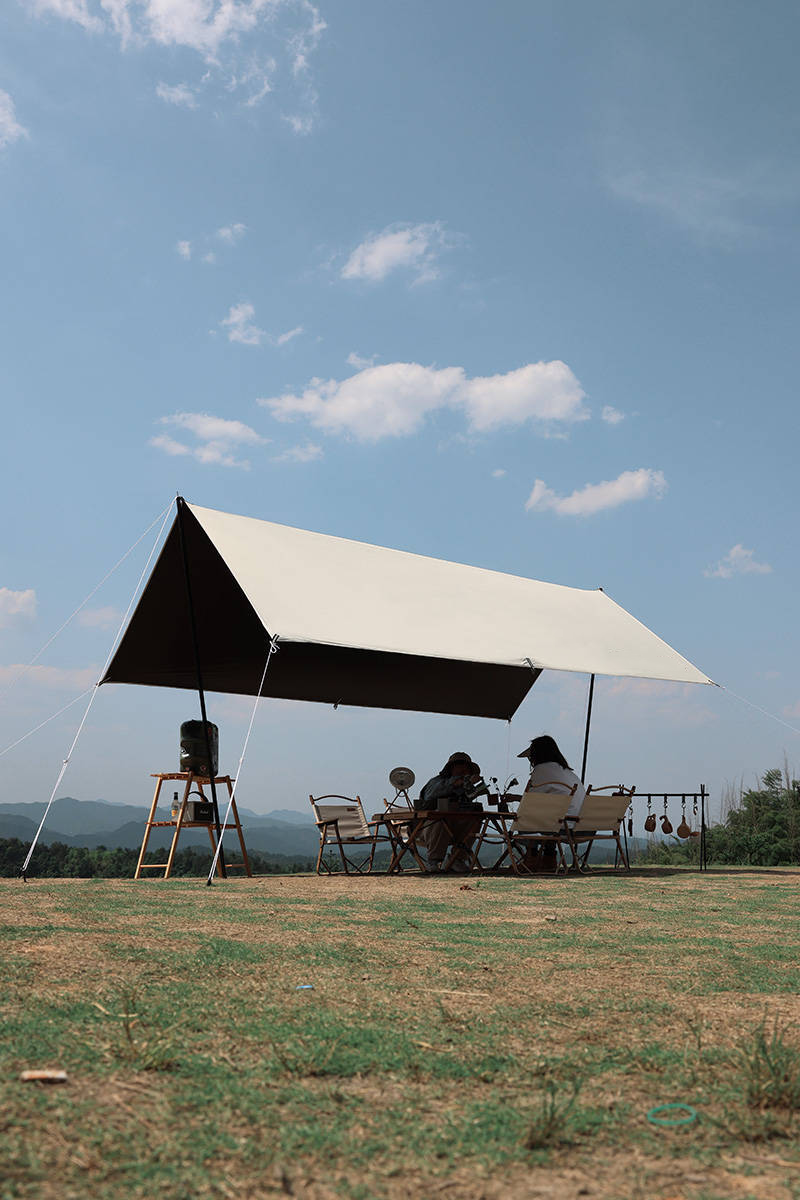 2.

Tents
should consider whether space, ventilation, construction, and storage are easy. Especially when preparing to spend the night outside, the tent space is large enough to avoid overcrowding and discomfort. Choosing a size based on "number of tourists+1 person" is recommended. For example, if a family of three has a space that can accommodate more than 4 people. Summer tents need to consider sun protection and ventilation more, so dark, silver, and tents that can be opened and ventilated from all sides are more suitable.
For a long-lost gathering of friends, it's better to settle for camping. In the woods in the afternoon, having afternoon tea while chatting, and in the gentle sunset, having a bonfire while making outdoor movies, there will always be a moment when you can rediscover your strong love for life.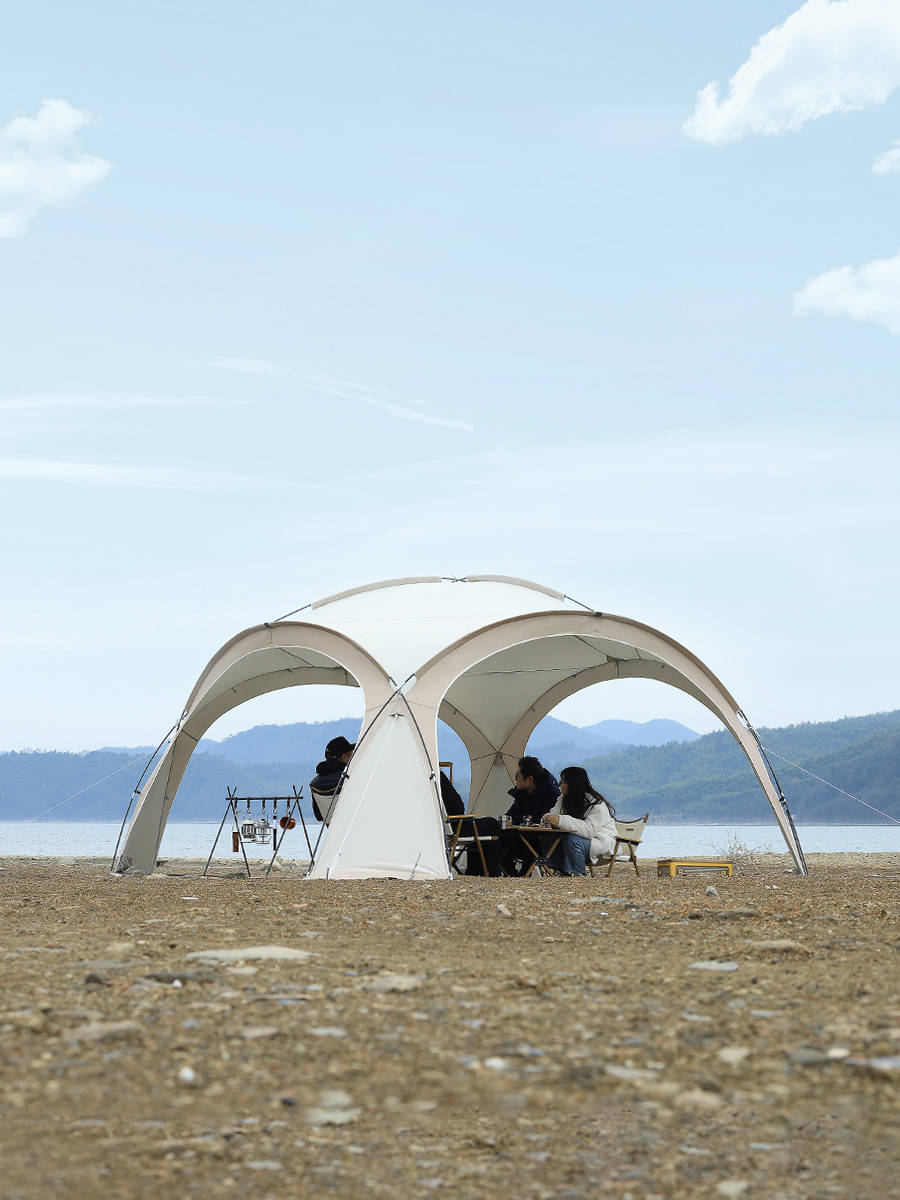 3. Table
Many people can choose the
Chicken rolls table
. The table is large and light, and the foldable aluminum table is portable and simple.
The table top of the aluminum Chicken rolls table can be folded according to the use scene just like the egg roll, and the table top and table legs are also separate, so it is more convenient to carry out. The material of lightweight aluminum alloy is very textured, with advantages such as corrosion resistance, rust resistance, scratch resistance, and superior metal luster on the surface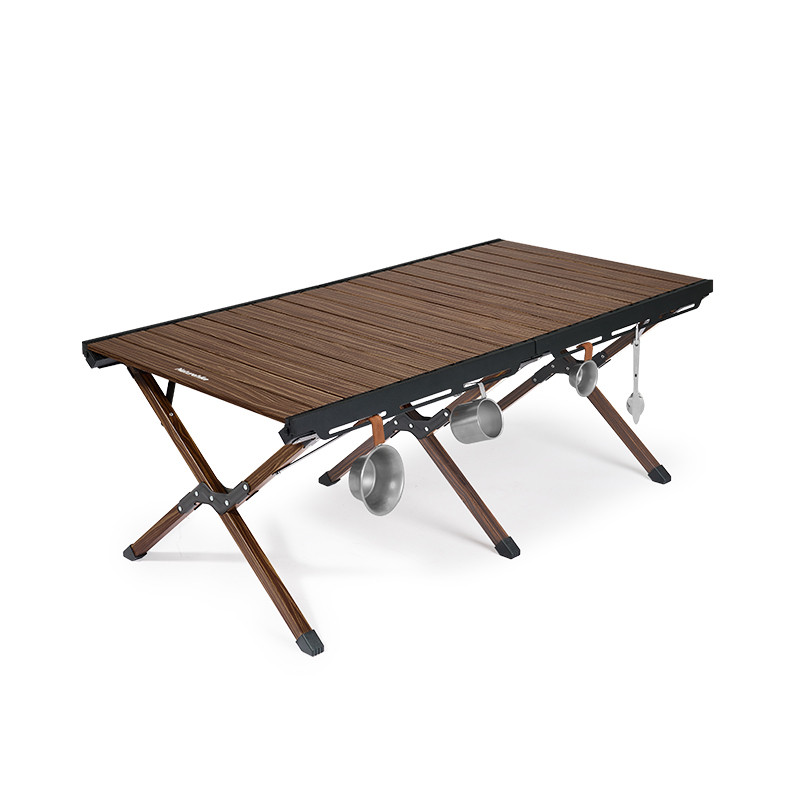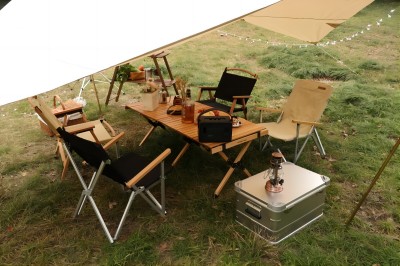 4. Chair
The
Kmit chair
is easy to fold and store, but it is a bit heavy;
Sea Dog Chair: Comfortable and foldable, suitable for people who have been idle for a long time, and storage will be relatively long;
Lightweight and portable folding chair: light and easy to fold and store, and it does not take up space at any time;
little Maza: Portable, suitable for extra seating.
The style of camping equipment you must bring is a
camping chair
. Why do I say that a chair is very important? The important thing is not its appearance, but its height. When choosing a chair, everyone should try to achieve consistency based on the height of the desktop and things. To avoid being out of sync with our entire camping style due to different chair heights or excessively large sizes.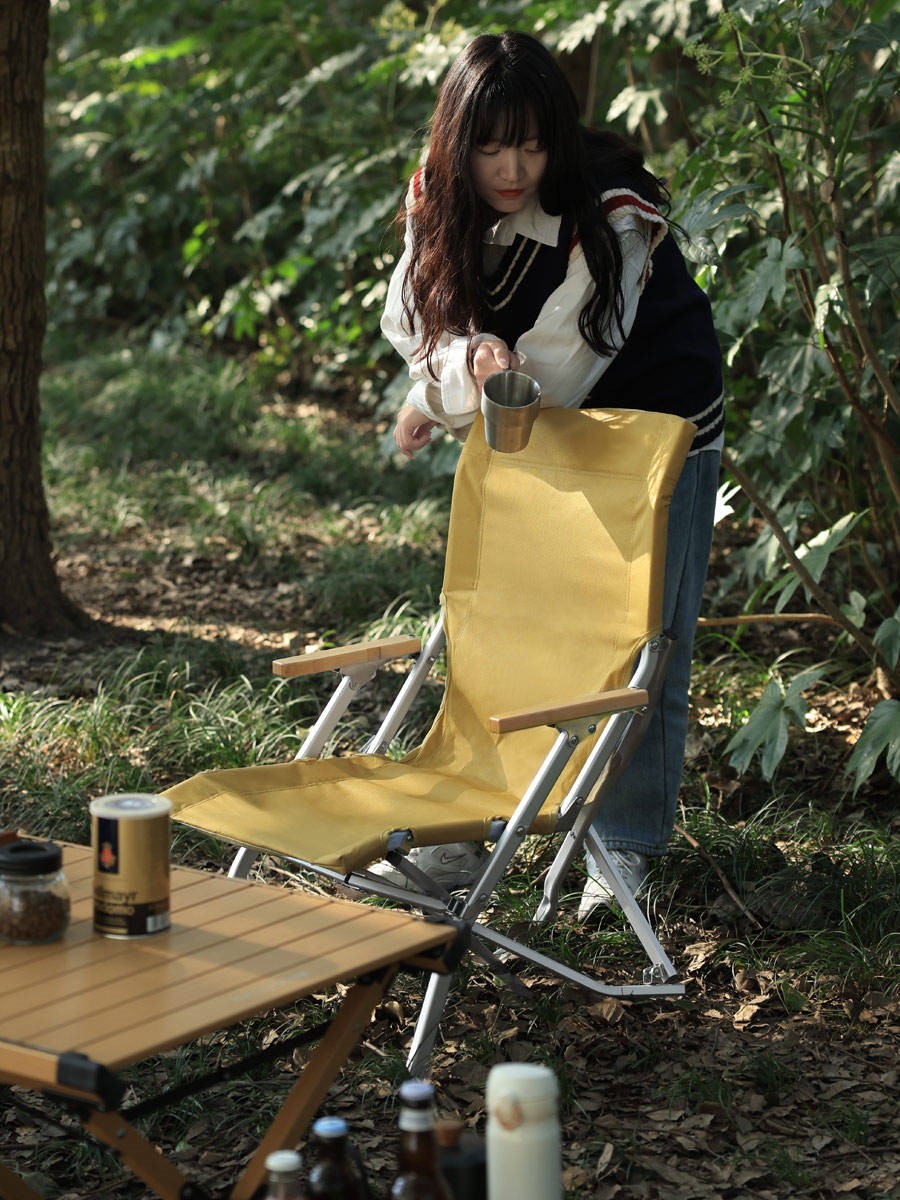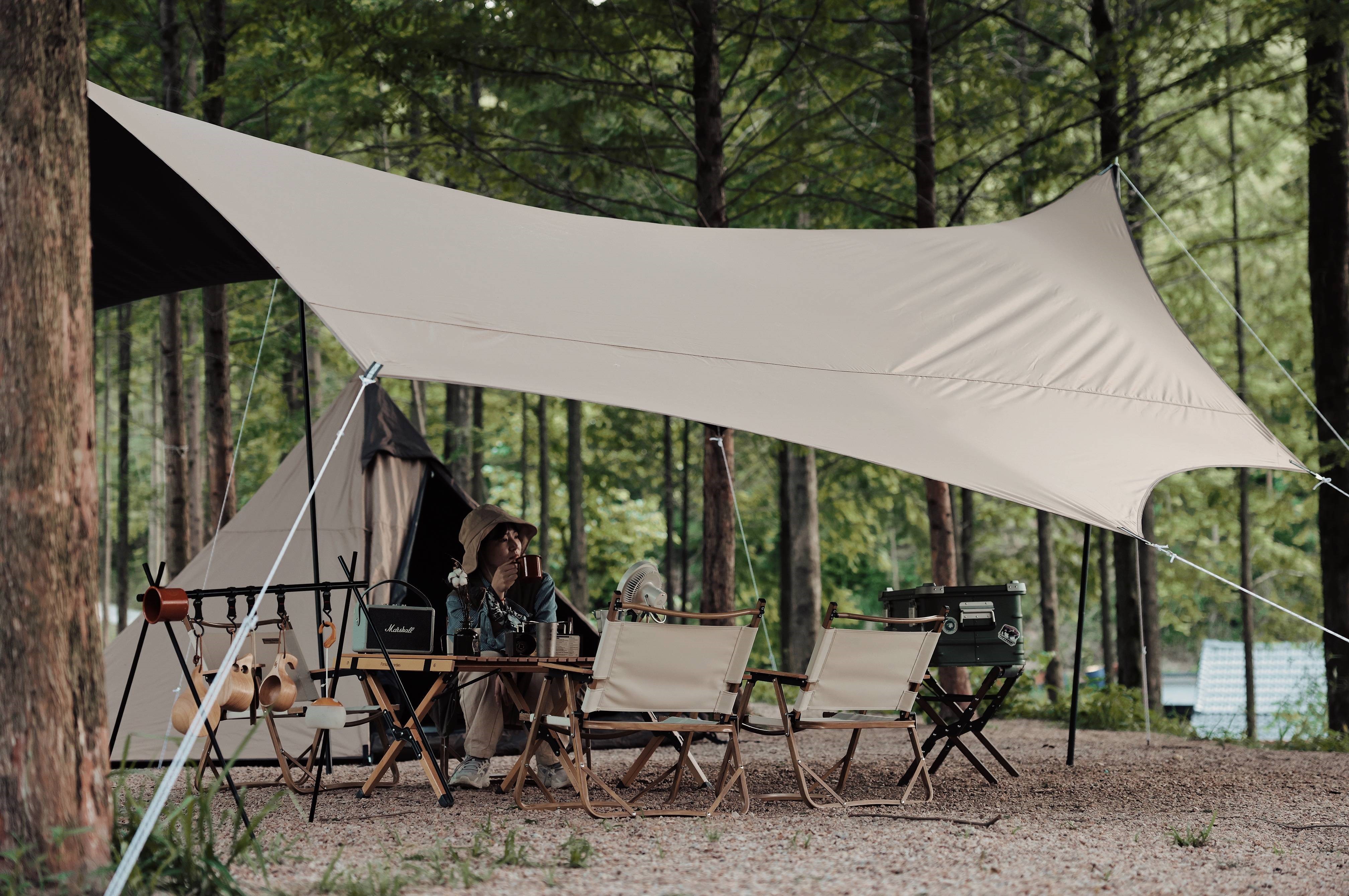 5. Kitchen utensils
Choose a stove based on specific needs
If you boil water to make coffee, you can buy a
stove
and a flat gas tank
If you are considering cooking, you can choose a cassette stove and a long gas tank
More brands of stoves can be used with built-in tables, making the desktop more flat and clean to store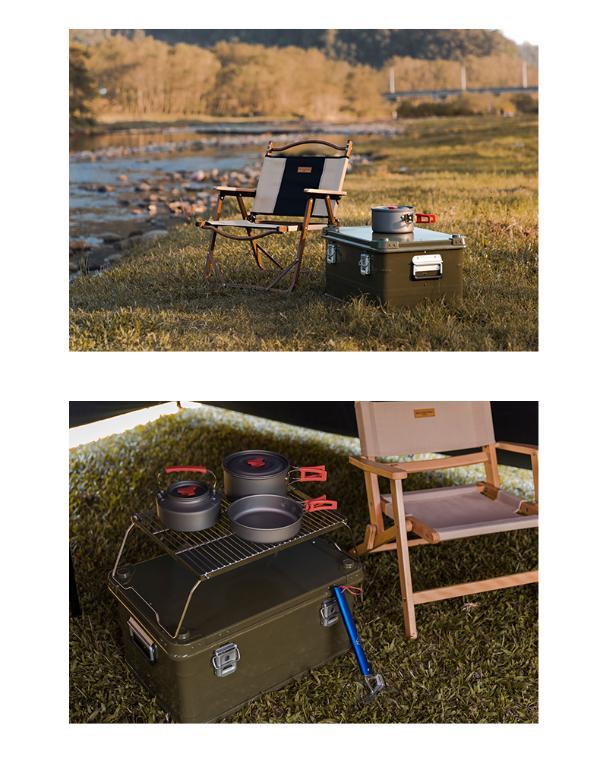 A must-have style of camping equipment - aluminum boxes. Many people abroad use aluminum boxes to hold equipment, but later I also found that aluminum boxes are better than soft bags. When at the campsite, it can also be used as this so-called table. One of the biggest reasons why we recommend using aluminum boxes for storage is that aluminum boxes are the largest unit of modular storage, which means they can bring all modular items with them. Pack all the camping items in one go, saving a lot of time. You don't need to organize them when you go home. Next time you go out, pick up the whole box. The aluminum box can be locked to prevent mosquitoes and theft, and children can also use it as a stool.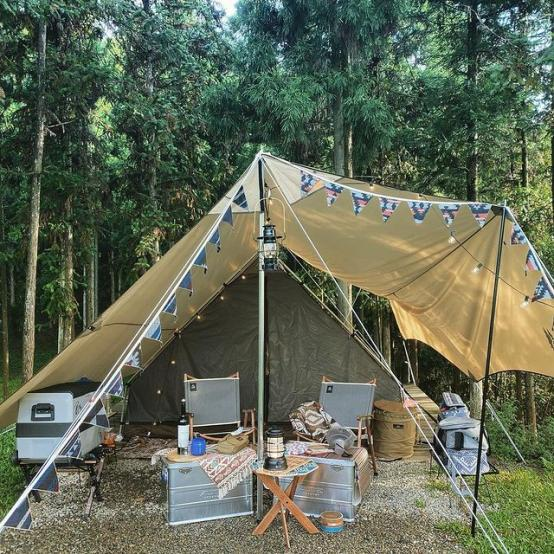 (1). Store and keep the trunk clean, so that it won't jingle while crossing the road;
(2). Safety: Place lithium batteries, outdoor power supplies, walkie-talkies, gas tanks, etc. inside. Putting it in the car in such hot weather is more reassuring;
(3). Rainproof and moisture-proof: Because there are sealing strips and they are not easy to rust when camping on rainy days, put small things directly in boxes and throw them outdoors without fear of rain;
(4). It can also be used as a table and stool during camping and off-road rest;
After the rescue is completed, most rescue tools are covered in mud. Put the winch rope, trailer rope, shoes, raincoat, and other off-road tools inside to keep the carriage clean and tidy.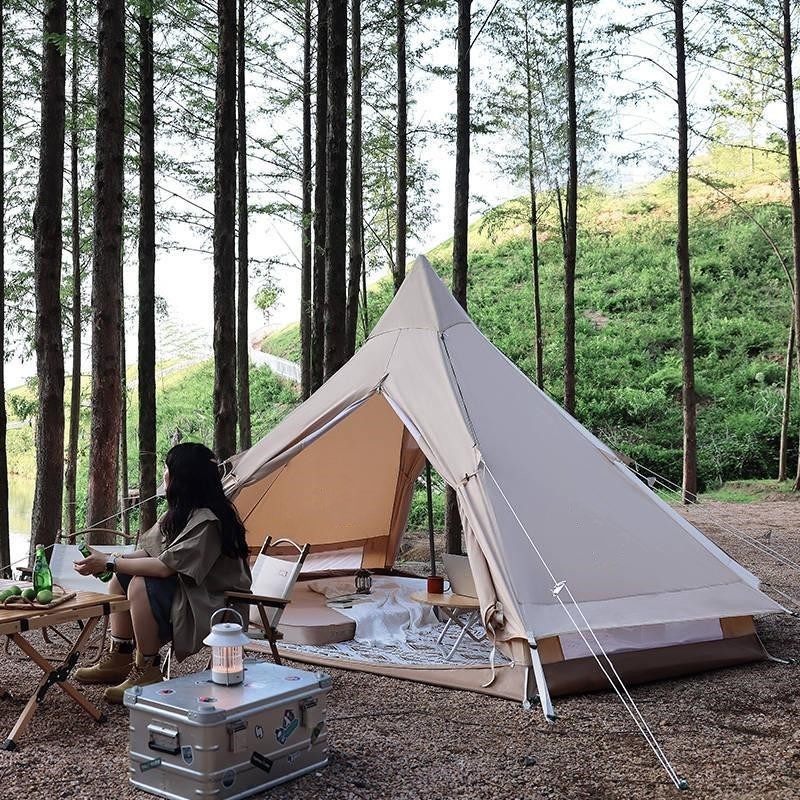 A sturdy and stable aluminum box is frequently-used in camping. Since it comes to storage, we really can't ignore it.
Lamps, cassette furnaces, decorative props, cups, and plates can all be orderly stored, with pull rings on both sides for easy handling.
7.

Insulation box
: Properly place some ice bags and cubes to unlock the joy of being frozen!
In summer, whether you are by the seaside or in a mountain forest camp, you must be an ice bucket with strong ice preservation ability. We use this ice bucket to achieve good preservation or ice preservation effects.
Iced fruit drinks and fresh fruits certainly need to be arranged! Double-layer insulation and strong safety insulation boxes can be of great use.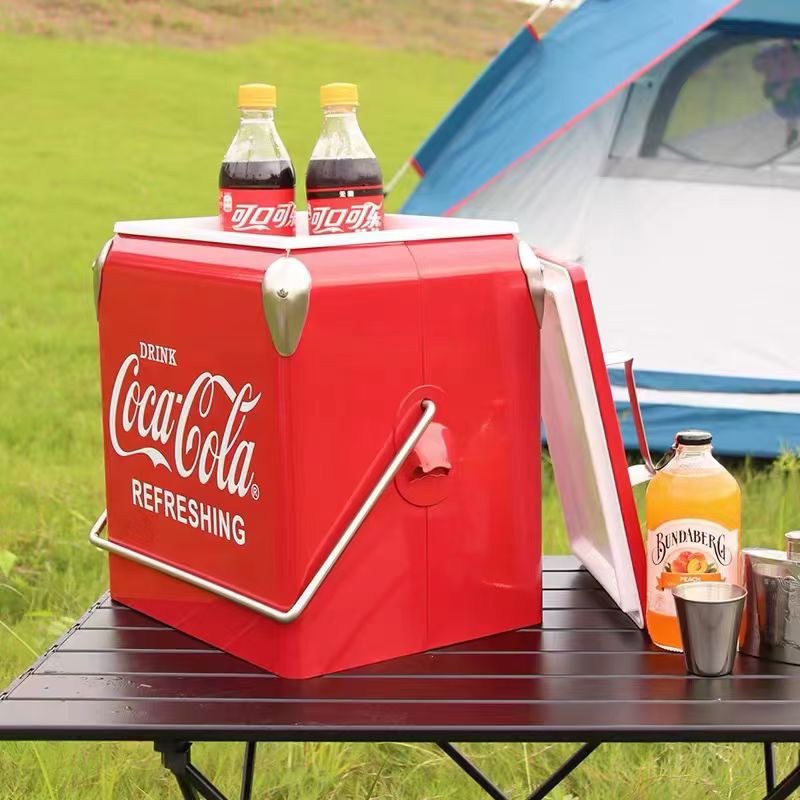 8. Foldable Camping Wagon Carts: If the vehicle cannot directly reach, it must be equipped with a Wagon Carts
(1). Foldable
Camping wagon carts
can greatly reduce space occupation and can be folded up when not in use. They can also be folded up when camping, making it more convenient than luggage in environments such as going up and down mountains.
(2). Giant energy outfit
Compared to suitcases, handbags, etc., the camping wagon carts occupy a larger area and correspondingly occupy more "space". It can hold some relatively high folding stools, upright folding tents, and other things, which is much more than luggage and handbags.
(3). Multipurpose
In addition to transporting things, the biggest function of a camping cart is to serve as a dining table, making outdoor dining more dignified and enjoyable, and increasing the camping experience and ritual. It is also necessary core equipment for "exquisite camping".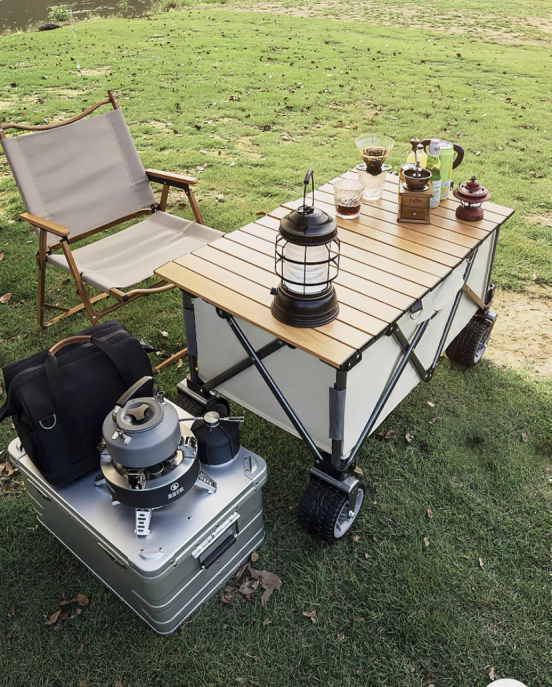 After finishing the basic essentials, the next step is to equip yourself with something to enhance your happiness index.
1. Fan: Choose a lithium battery high capacity fan, which can be prepared with two
2. Refrigeration bag: Refrigerated ice cola, ice water, cooling and relieving heat
3.
Foldable hanging rack: How to find a home for pots, pans, and decorative lighting fixtures? Why not give this tripod a try?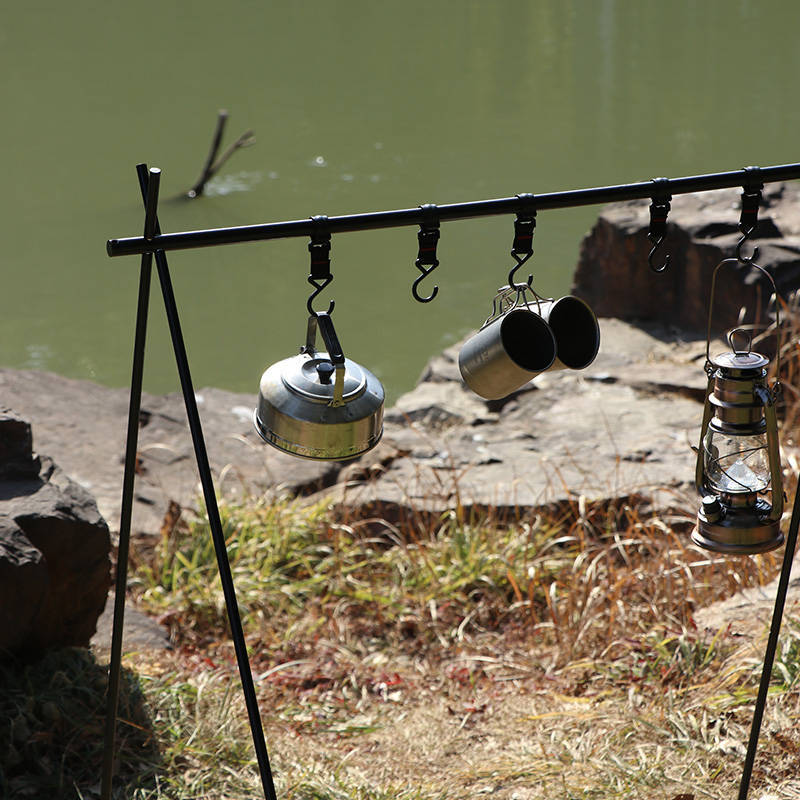 It's too convenient to build! After unfolding, it can automatically adsorb like a magnet, and each shelf comes with 5 hooks to hang small items, which is really worry-free!
4. Lights:
Campsite lights
are essential equipment. It provides us with nighttime lighting and also gives our hearts a sense of security. The advantages of camping lights are obvious, as they can provide us with a stable light source, making them very suitable for leisure and cooking in campsites.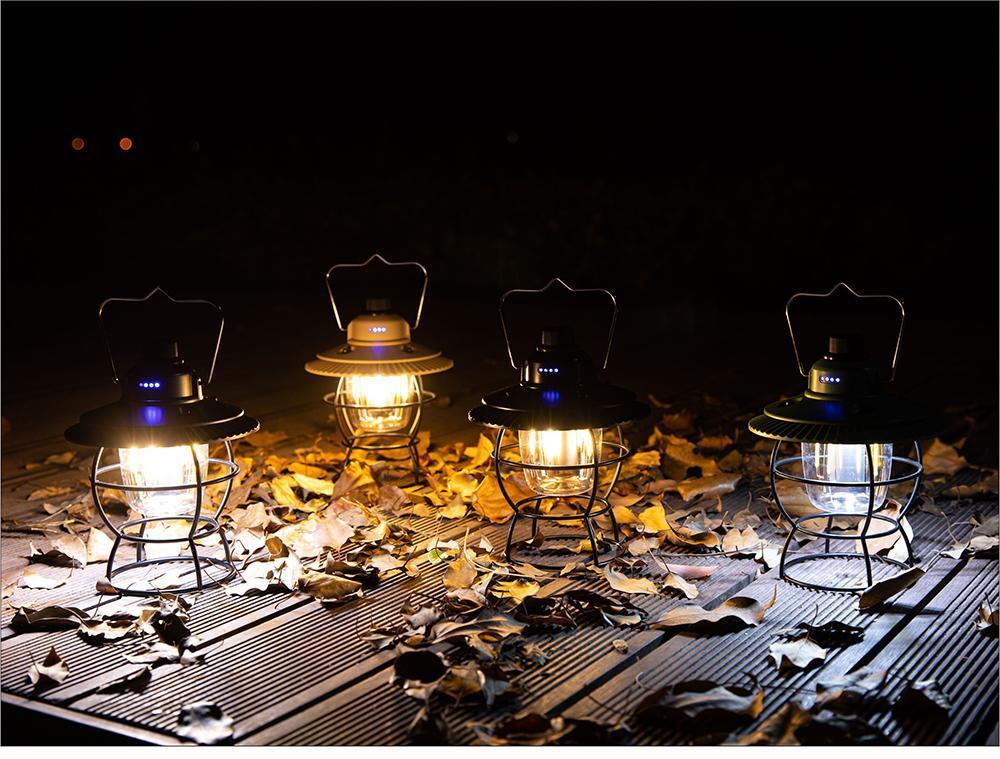 5. Anti-mosquito products: mosquito repellent incense and mosquito-repellent spray can be selected
6. Purified water: recommended weight of 1.5-2 liters
7. Bluetooth audio: a sharp tool for enhancing the atmosphere
8. First aid kit: You can purchase essential portable small bags
9. Garbage bag: Be sure to bring it, take the garbage away!
10. Power Bank: Currently, the battery of my phone is not enough for a day
11. Sunscreen: Relatively cool in the shade of trees.
Outdoor precautions:
Confirm the weather in advance:
It's best to avoid camping in bad weather~Of course, sometimes the weather forecast can go wrong, so it's best to wear a raincoat and be mentally prepared for unknown weather in any situation.
Insect repellent and scorpion protection measures:
You can sprinkle some plant ash around the campsite, which can be very effective in preventing the invasion of poisonous insects, snakes, and scorpions.
Insulation measures:
At night outdoors, the temperature will decrease significantly and the wind will increase. Therefore, it is necessary to find a suitable place for camping as soon as possible in the evening and add appropriate clothing.
Outdoor environmental protection:
Finally, please note that in the wild, it is important to protect the natural environment, avoid harming wildlife, deforestation, damaging natural vegetation, and polluting water sources. When camping, the fire must be completely extinguished, and garbage and waste should be taken out as much as possible and disposed of in designated places.
KASSICO
, a leading
aluminum box
factory in Ningbo, China, has 21 years of production experience. Since 2015, combining the advantages of
camping kitchen boxes
, KASSICO has expanded its business scope to outdoor camping gear and equipment, including the design and supply of
camp kitchenware
,
camp furniture,
camping tent
,
camping lights,
tools
, etc. With multiple sets of outdoor product solutions, KASSICO provides customers worldwide with hundreds of innovative and affordable outdoor products, we will be your reliable suppliers, and we will try our best to serve you better and be your honest partner.
More Detail:
https://www.kassico-outdoor.com/