Overland & Camping Storage Boxes for Outdoor Adventures

A challenge of all off-road adventures is fitting all your gear inside your vehicle and keeping it organized.
That's exactly where the best overland storage boxes come in handy by helping you store gear and protect it from the elements.
Maximizing your storage space is vital when you're living or traveling in an overland rig. So don't overlook the importance of finding storage solutions that work for your lifestyle and your vehicle.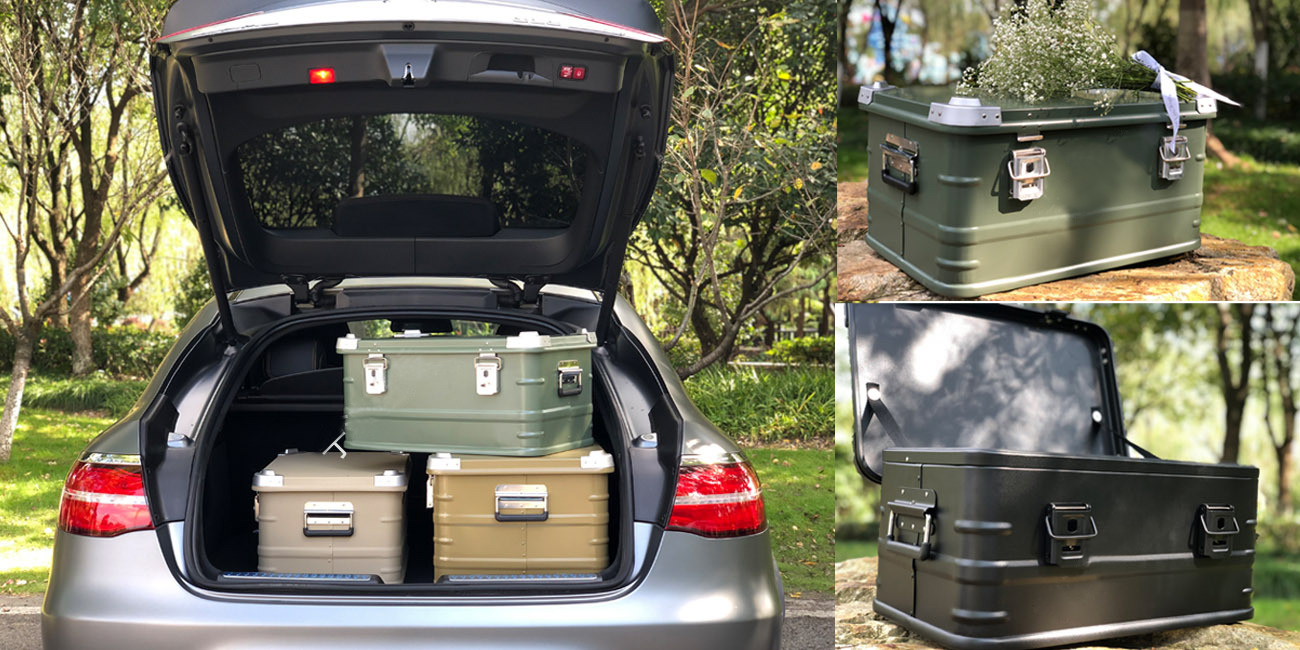 Storage Box Specs
EX Size (Small): 5″ x 12.6″ x 9.05″
Storage Capacity (Small): 30liters
Weight (Small): 8 pounds
Size (Medium): 44″ x 14.56″ x 12.25″
Storage Capacity (Medium): 50liters
Weight (Medium): 55pounds
Size (Large): 31″ x 16.93″ x 15.75″
Storage Capacity (Large): 95liters
Weight (Large): 156pounds
Materials: 1 mm aluminum sheeting


KASSICO offers a three-pack of storage containers at an affordable price to help you save storage space in your rig. But you can also purchase the small, medium, and large containers separately.
They all feature durable aluminum manufacturing and they can all stack inside each other when you're not using them. Additional ribbing and reinforced, aluminum-cast top corners provide additional durability in this container's design.

The steel handles are designed with spring-loaded rubber grips and stainless steel clasps. Both the handles and the clasps are strongly riveted to the body of the box, eliminating the weak point that often comes when handles are tack welded in place.
Overland Vehicle Systems Dark Grey Dry Storage Box



PC Northridge 4×4
Storage Box Specs
Size: 47″ x 19″ x 13″
Storage Capacity: 7 liters
Weight: 38 pounds
Material: Linear low-density polyethylene (LLDPE)
Overland Vehicle Systems also makes durable camping boxes for your overlanding stuff. This dry storage box does include a drain plug for easy cleaning and the military-grade gasket provides a waterproof seal for your gear. It features two secure locking points and three heavy-duty latches for extra security. When you do pull this storage box out of your vehicle, make sure you position it so that you can use the stainless steel bottle opener on the side.
Whether you need to secure recovery gear, tools, or other equipment, there aren't many other storage solutions that provide the kind of durability and protection offered by Overland Vehicle Systems' selection of the best overland storage boxes.
PC Amazon
Storage Box Specs
Size: 25″ x 20.625″ x 17.25″
Storage Capacity: 7 liters
Weight: 7 pounds
Material: Impact-resistant plastic
Temperature Rating: 0 to 100℉
The Rubbermaid ActionPacker series is a slightly more budget-friendly option for your gear. While this 48-gallon cargo case is a great standalone solution, they also offer a variety of smaller cargo cases that can stack together to maximize vertical storage space.
The box is excellent for storing sleeping supplies or camping equipment that's less sensitive than cameras and other electronics. The lid surface does repel water, but the ActionPacker is a better solution if you can fit it inside your Jeep Wrangler or another overlanding vehicle.
It does feature lockable, tamper-resistant latches that allow you to secure your gear with an aftermarket lock. The handles on either end also make it easy for you to carry these storage containers with a partner.

SR-110 Crossover Overland Cargo Case



PC Amazon
Storage Box Specs
Size: 2″ x 18.5″ x 12.8″
Storage Capacity: 110 liters
Weight: 34 pounds
Material: Linear low-density polyethylene (LLDPE)
Temperature Rating: 0 to 212℉
The SR-110 is another quality weather-resistant cargo case that is ideal for sensitive supplies like camera equipment and other electronics. If you want to avoid a time-consuming search for storage containers, you can buy multiple and stack them together as desired.
These rotomolded cases also meet TSA requirements, so they can serve your international travel dreams as well as your overlanding outdoor lifestyle. The Crossover storage boxes include a built-in bottle opener and a drain plug to easily empty water if you decide to use the space for wet storage.
The latches are extremely secure on these containers and they also feature quarter-inch padlock fittings for you to lock your gear up if needed. They're also built with anchor slots to help you strap down the best overland storage boxes when you're driving on rough roads.
DECKED Truck Tool Box



PC DECKED
Storage Box Specs
Size: 1″ x 22.3″ x 20.6″
Storage Capacity: 8 liters
Weight: 114 pounds (with ladder); 103 pounds (without a ladder)
Materials: Steel-reinforced, injection-molded, high-impact polymer resin (lid); injection-molded, impact-treated high-density polyethylene (base); anti-corrosion treated steel and aluminum (hardware)
DECKED is one of the coolest storage companies out there for truck bed storage and their drawer systems are second to none, even if the price is a little higher. They also make this durable, waterproof toolbox that can be permanently mounted in the bed of your truck.
The fit is truck-specific, so you'll need to ensure yours is compatible to carry this toolbox. But if it is, it's an extremely durable and waterproof way to store your overlanding tools and recovery gear in one of the best overland storage boxes.
The box features an EPDM rubber gasket and a seamless lid to keep water, as well as dust and other debris from getting inside and corroding your stuff. Plus, the box can be purchased with a drop-down ladder that will come in handy for those of you with an overland tent mounted to your roof racks.
Dometic Portable Hard Side Gear Storage Box



PC REI
Storage Box Specs
Size: 57″ x 23.08″ x 12.19″
Storage Capacity: 50 liters
Weight: 92 pounds
Materials: Vertical aluminum and high-impact-resistant polymer
Dometic has a solid reputation in the RV industry as the manufacturer of many of the appliances you rely on for everyday living. But they also make some excellent storage containers to keep you organized on your next trip.
The lid design keeps water, dust, and other debris out of your storage space and these cargo cases can stack so you can optimize the vertical storage inside your vehicle. They're also equipped with built-in handles for easy carrying and tie-down points to keep them from shifting when you're traversing rugged roads.
Plus, the lock holes allow you to secure your camping tools and equipment when you need to leave your vehicle for any reason. It's a simple, affordable, and effective design for storing your overlanding gear in one of the best overland storage boxes.